AccuQuilt generously sent me a Go Baby die cutter to play with, and I've been doing just that in the spare moments during the move. I'll have some fun projects and more specific ideas shortly, but for now I thought I'd make note of some of my first thoughts on the cutter.
Not a rotary replacement: I don't say this as a bad thing at all! Instead, it does what rotary cutters can't do. All the publicity materials for Go cutters say that die cutting is up to 90% faster than rotary cutting, but with all due respect to the company that sent me free stuff, I can't say I really give two ticks. Even after using die cutters for a while, for me, cutting strips and squares is still a job best assigned to the rotary cutter. It's not about fabric wastage, which I know is a big concern for some die-cutting resistors (AccuQuilt is great about giving specific instructions for how to fold fabric to minimize waste)—it just feels simpler to slap the yardage down on the cutting mat and slice through it. What I do find delightfully appealing about die cutting, though, is the ease with which you can cut shapes that are impractical or impossible with rotary cutters: hexagons, certain triangles, circles, and a whole plethora of appliqué shapes (especially nice when you need mountains of the same shape). So just as the dawn of rotary cutters didn't mean scissors were suddenly banished from our sewing rooms, die cutting can be thought of as another cutting method to have in your arsenal—choose whichever tools are best suited to the task at hand.
Portability: The cutter folds up into a compact little package that's easy to carry around and, more to the point, store. Even the full-size AccuQuilt Go dwarfs this thing, and you can still cut any Go die up to 6" wide (the opening's actually about 7" wide since the 6" measurement is only nominal). The footprint when closed is probably a quarter of my other comparable die cutter. I thought maybe the fold-down sides/platform would be flimsy, but they feel solid and turn smoothly. And they latch closed with a hidden magnet, which feels super sleek and also means there aren't any plastic latches to break from wear. It also comes out of the box completely assembled, handle and all.
Die catalog: Since AccuQuilt is dedicated to quilting, you're using dies made specifically for quilting: corners are blunted and curved edges notched for easy alignment, so you get all the benefits of using a template without the drudgery of actually having to make a template. Many of the dies are also designed to work together. In upcoming posts I'll show you some ways to use their Equilateral Triangle and Hexagon dies together—you can use the triangles between hexagons to eliminate inset seams, but there's lots more you can do too, like making a six-pointed star:
The white snowflake in the middle is from the Sparkle-Snowflake die. When I'm done embellishing and constructing, this'll be a potholder, and I'll post a full tutorial here.
I'll also have a tute for this easy pincushion:
I'm on the committee for the quilt guild boutique at our upcoming quilt show, so I've had small, fast, easy projects on the brain, and die cutting is a huge help—it's not just for quilts!
Another of my favorite quilting tools, EQ7, works well with die-cut appliqué shapes, especially using the WreathMaker function: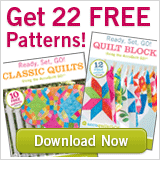 I was originally thinking of these medallions as quilt blocks, or I might cut the shapes from felt and make a pillow or wallhanging. Again, I'll give you all the details! Stick around…or if you're dying to get started, click the button to the right to sign up for AccuQuilt's e-mail list and get 22 free patterns, and take a look at the other ideas on accuquilt.com.