Update:
See the entries and vote for your favorite!
Want to win your own
AccuQuilt
Go Baby die cutter
and your choice of 3 dies? Well, AccuQuilt and I want to send them to you! I've always found Lady Luck to be a bit of a b*tch, so to win this giveaway you have to get creative—I want to see what you'd do with your die cutter.
For a chance to win, design an original quilt block using AccuQuilt Go die shapes. But how, you might ask, are you supposed to design a block with die shapes if you don't already have a die cutter? There are a couple ways. If you use
EQ7
, you can
download block libraries featuring AccuQuilt shapes
and drop them into a quilt design—I showed a couple blocks I made with EQ in
this post
. You can still enter if you don't have
EQ7
, though: just
download this PDF
with a selection of die shapes (each page shows a different die), print it, cut the shapes out, and arrange them to design a block out of paper or fabric. These die shapes are best for appliqué, but you could design a pieced block using other
Go dies
if you like. You don't have to sew anything—just show us what you could do if you won the cutter and dies.
The block background can be any size you like, though it has to be possible to cut the shapes out with AccuQuilt dies, so make sure not to resize any of the shapes.
E-mail a JPG or PNG of your block design to giveaway[at]feeddog[dot]net by midnight (Pacific Time) on August 26, including in your e-mail a list of the dies used (check the Notecards in EQ7 or the footer at the bottom of the PDF pages). I'll post all the entries here and readers will be able to vote for their favorite. After a week of voting, whichever block has received the most votes will win a free Go Baby cutter and dies for its designer.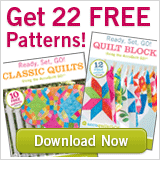 One entry per person please. Tell your friends so we can build a great gallery of block ideas! Designs remain the property of their designers, but by entering you give permission to display your block on this blog and
feeddog.net
.
If you're working in EQ7, it's easiest to make a "block" on the Quilt Worktable, but stay tuned here for some tips on getting the die shapes into the Block Worktable.
Good luck!